Around one month ago, on 21 September everything looked very rosy: the SP500 CFD hit a new all time high (September is considered to be the worst month of the year in terms of performance) and dodged this bullet, and it seemed as if it was only a question of time until the SP500 CFD would hit its next milestone at 3,000 points. Since that day, the SP500 CFD has lost 9.7% and is currently trading at its lowest levels since May 2018.
What is interesting is that more and more economists, analysts and asset managers have given interviews, predicting a big crash to come, speculating that there will be a 70% crash in US equities ahead of us. And there are many valid points made: the current fundamental situation is very tense, not only due to the fears of an escalating trade war between the US and China. There is also the question of what will happen after the ECB ends their QE program in December 2018, especially if the FED keeps up their current pace in regards to hiking rates, with a minimum of three more hikes of 25 basis points to come in 2019: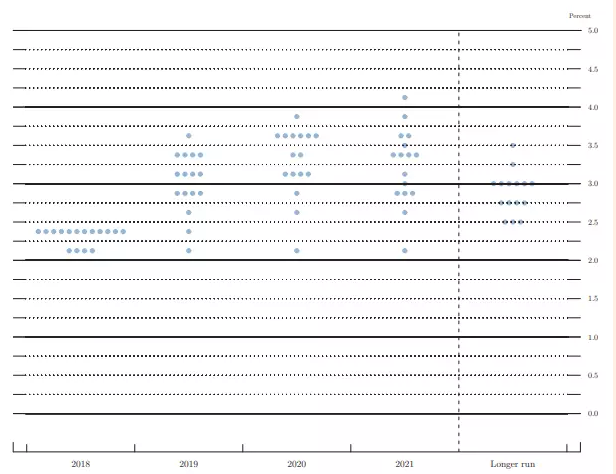 Source: Financial Times | FED Dot Plot, 26 September 2018
The speculation around the ECB goes directly over into the current tensions between Brussels and Rome, with the populistic Italian government aiming for a budget deficit in 2019 for 2.4% of GDP, over-shooting the accepted EU rule of only 2% of GDP, leaving the Eurozone vulnerable to a new wave of break up speculations. Then, there are the BREXIT negotiations and rising geopolitical tensions between the US and Russia, in regards to a withdrawal from the INF Treaty that President Donald Trump brought up over the last weekend. When looking at the daily chart in the SP500 CFD, one can also spot that on Wednesday a crucial region from a technical standpoint of around 2,700 points was broken, pushing the SP500 CFD finally and significantly below its SMA – Simple Moving Average (200), which indicates a break of the overall bullish trend.
Source: Admiral Markets MT5 with MT5SE Add-on, Accessed: 25 October 2018, 1:00 PM CEST
If you combine the fundamental and the technical picture, it is understandable that many market participants fear a potential crash. This is especially true when looking at the following: thanks to the cheap liquidity which global central banks have provided since 2008, there was a massive rise in margin debt at the NYSE, and all over the world in general, which climbed to the highest levels ever – even higher than the new economy bubble in 2000, and higher than the margin debt before the financial crisis in 2008:
Source: FINRA | Advisor Perspectives
A market environment which is that aggressively leveraged, thanks to central bank intervention in combination with low volatility, sometimes only needs one simple trigger and the house of cards falls apart. Chances are high that in the upcoming months, and the year 2019 in general will be really rough, and we probably haven't seen the bottom yet, at least chances are high that we get to see a short-term bounce.
Therefore, let's look at the facts:
When the SP500 CFD hit a new 'All Time High' on 21 September 2018 at around 2,939 points, the volatility index VIX closed at 11.68 points. That means nothing more than the fact that market participants expected the SP500 CFD to trade within a 3.3% range on the up-/downside over the next 30 days of trading.
So, the current drop is a 3-standard deviation event which is, roughly speaking, occurring in one out of 100 times, or to put it differently: it is an unlikely event.
When the S&P was up in April, May, June and July (as it was this year) and which has only happened 10 times since 1950, the SP500 CFD was on average higher around 10% at the end of the year (CNBC)
Currently the CNN Fear & Greed Index is at 6. In the past such occasions have presented (short-term) buying opportunities:
Source: Thursday 25 October 2018 1pm CEST – SP500 Weekly Chart: Stockcharts.com
Summary
After the drop below the SMA (200) on a daily chart, the SP500 CFD has broken its overall bullish trend, and bulls should be really careful with long engagements in general. Nevertheless, the mode seems a little extended on the downside with a "fear spike", which could at least indicate that a short term bounce in the SP500 CFD is imminent.
This material does not contain and should not be construed as containing investment advice, investment recommendations, an offer of or solicitation for any transactions in financial instruments. Please note that such trading analysis is not a reliable indicator for any current or future performance, as circumstances may change over time. Before making any investment decisions, you should seek advice from independent financial advisors to ensure you understand the risks.