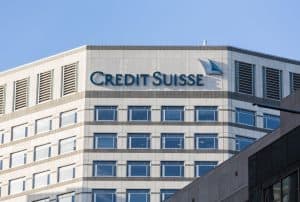 Credit Suisse and Societe Generale will be among the first users of a blockchain-powered settlement system, after the platform was given the go-ahead by the US securities regulator.
Post-trade start-up Paxos received 'no-action relief' from the US Securities and Exchange Commission (SEC) to launch Paxos Settlement Service, which will soon begin processing trades for a limited number of brokers in certain US equities.
Paxos described its platform as a private, permissioned blockchain solution that allows for direct and bilateral settlement between two parties. The platform aims to make settlement of transactions more cost-efficient and secure than legacy systems and processes. It will also be the first live application of blockchain technology for US equities, Paxos added.
"We believe the process of securities settlement can be greatly optimised using blockchain, and with Paxos Settlement Service we will benefit from these efficiencies first hand," said Emmanuel Aidoo, head of digital asset markets at Credit Suisse. "We see this as a significant and important milestone in our Digital Asset Markets strategy and foresee opportunities to leverage this product across numerous asset classes in the future."
CEO and co-founder of Paxos, Charles Cascarilla, added that the blockchain-based platform is an important step in reimagining post-trade infrastructure, at a time when the US equities business is challenged with economic pressures and economic pressures.
Founded in 2012 as Bitcoin exchange and custodian itBit, the start-up rebranded to Paxos where it shifted its business to focus on providing services using blockchain. Last year, the New York-based FinTech firm raised $65 million from a series B round of funding, after securing investment from venture capital firms RRE Ventures and Liberty City Ventures.
"By implementing Paxos Settlement Service as an early adopter, we will be able to tailor the system to our needs and introduce a technology that can positively impact our cost structure in both the immediate and long-term," Jeffrey Rosen, COO for global markets in the Americas at Societe Generale, commented. "This service has the ability to deliver meaningful benefits to our operations and business and we are excited to be on board."
The post Credit Suisse and Societe Generale adopt blockchain settlement platform for US equities appeared first on The TRADE.