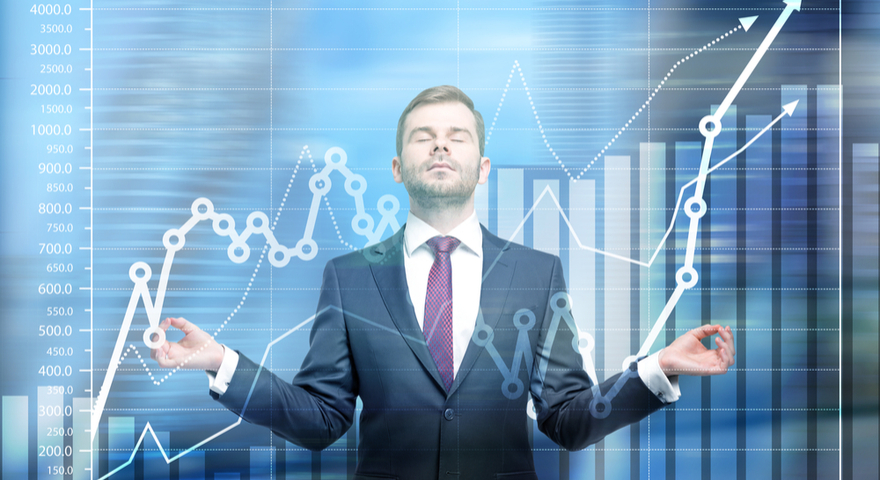 Source: Shutterstock
You might be wondering what the E.A.S.T. chart setup is. With E.A.S.T., I am referring to the (E)nergetic (A)ccurate (S)ystematic (T)urnout. Before we delve deeper into the matter of setting up your charts, it is important to know that mental training is also a crucial part of the E.A.S.T. principle.
Mental Fitness
There are two critical aspects of a trader's mental fitness:
The more problems with trading psychology, the more significant the difference between the trading plan and the actual real-life trading (reality or execution);
The fewer issues with trading psychology, the smaller the difference between the trading plan and the actual real-life trading (reality or performance).
The common problem for new traders is letting the losses run and limiting the profits. They see losing trades as reasons for negative thinking. Fact is, negative thinking brings about negative things. Every trader's fears become true. If you suffer a financial loss, it's not the end of the world. A loss is a regular occurrence in every business, and you should treat a loss as a cost for making a mistake.
Greed, hope, fear, and impatience are the enemies of all traders. Any of these emotions could easily disturb a trader's balance and bring the trade and account crashing. Traders must walk across a thin rope while trading, so losing one's balance can occur quickly.
Traders often make the following mistakes when they spot greed, hope, fear, or impatience:
A greedy trader could take profit too soon;
A hopeful trader could exit too late;
An impatient trader could exit too soon;
A fearful trader could take a loss too soon;
All of these emotions lead to undesirable outcomes.
That is why practising mental fitness is crucial. Discipline can be improved by creating a routine. Remember that you are what you habitually do. If someone watches TV and plays video games 20 hours a day, 5 days per week, then their chances of succeeding in the Forex market are – logically – almost non-existent.
New traders often feel tempted to take more trades than they should due to the fact that they are scared of missing out on good profits. Having too many open trades, especially if they are strongly correlated currency pairs, can easily make you feel overexposed.
Back-testing is also important. In today's world of software, I don't see any reason not to run the back data through your system and see what the results are possible.
Although back-testing is no proof of future performance, at least you can see the logic of your system at work. For new traders, I definitely recommend 4h time frame trading due to less noise and definitely less stress. Trading the E.A.S.T. principle has its merits. Some of them are as follows:
Back-testing is easier due to fewer setups;
It is energetic – you can trade more pairs, which creates more opportunities;
You can trade it with a day job;
Larger profit potential.
Setting up the E.A.S.T. Charts
Platform: Admiral Markets' MT5
Forex Currency Pairs: EUR/USD, USD/JPY, GBP/USD, AUD/USD, NZD/USD
Indicators needed:
Admiral Markets MT5SE – Admiral Pivot set on Weekly
EMA 200 set on close (red)
EMA 3 set on close (blue)
EMA 8 set on close (orange)
You need to get Admiral Markets MTSE to apply the Admiral Pivot point, but feel free to browse through all indicators as they can help you a lot in your trading decisions.
Once you apply the indicators on the chart, you can start trading. First, practise on Demo account. If you are successful, move on to live trading. The E.A.S.T. principle requires you to be as realistic as possible, even when trading demo. That means you need to treat your demo account as if it was a live account. Invest the same amount of money on demo as you would invest on a live account… and practise a lot!

Source: EUR/USD H4 chart, MT5, MT5SE add-on, May 2018
In my opinion, rules are simple even for new traders, and the learning curve is shallow compared to other complex 4h systems. My principle is Keep It Simple.
When the price is below the EMA 200, only short trades are taken. When the price is above 200, only long trades are taken.
We enter short when the EMA 3 (blue) crosses below the EMA 8 (orange), while the price is below the EMA 200.
We enter long when the EMA 3 (blue) crosses above the EMA 8 (orange), while the price is above the EMA 200.
For short trades, the price should ideally be close to PP, R1, R2, or R3, and for long trades, the ideal situation is if the price is close to PP, S1, S2, or S3. Of course, we might often see a good bounce or rejection from other Pivot Points as well.
For short traders, the stop-loss is placed 10 pips above the previous swing high, and for long trades, 10 pips below the previous swing low. Targets are the next Pivot Points.
Short Trade Example
Source: EUR/USD H4 chart, MT5, MT5SE add-on, May 2018
Long Trade Example
Source: USD/JPY H4 chart, MT5, MT5SE add-on, May 2018
I hope that the E.A.S.T. chart trading along with mental discipline will bring you great trading results. If you have any questions, please don't hesitate to ask me!
Cheers and trade safe,
Nenad
This material does not contain and should not be construed as containing investment advice, investment recommendations, an offer of or solicitation for any transactions in financial instruments. Please note that such trading analysis is not a reliable indicator for any current or future performance, as circumstances may change over time. Before making any investment decisions, you should seek advice from independent financial advisors to ensure you understand the risks.