Even though the ECB rate decision didn't deliver much new last Thursday, and with Italy offering a 2.04% budget deficit target to Brussels, the outlook into the yearly-close looked all in all promising for Euro bulls, with a stint back towards 1.1500 being a serious option. Already last Friday this outlook darkened: with published PMIs showing that German and also Euro Zone business activity expanding at the slowest pace since four years, while French business activity fell to its lowest level since February 2016, pointing to a contraction in terms of business activity.
Source: Economic Events 17 December 2018 – Admiral Markets' Forex Calendar
With the ending of the ECB QE program this month, the drop and weekly close came slightly above 1.1300 in the EUR/USD currency pair, with no big surprise and it levels the path to lower prices in the days to come, with a re-test of the current yearly lows around 1.1220 becoming an serious option. An acceleration on the downside could take place if EZ inflation data comes in lower than expected, and the short-term the region around 1.1330 should act as a serious resistance to a potential short-trigger: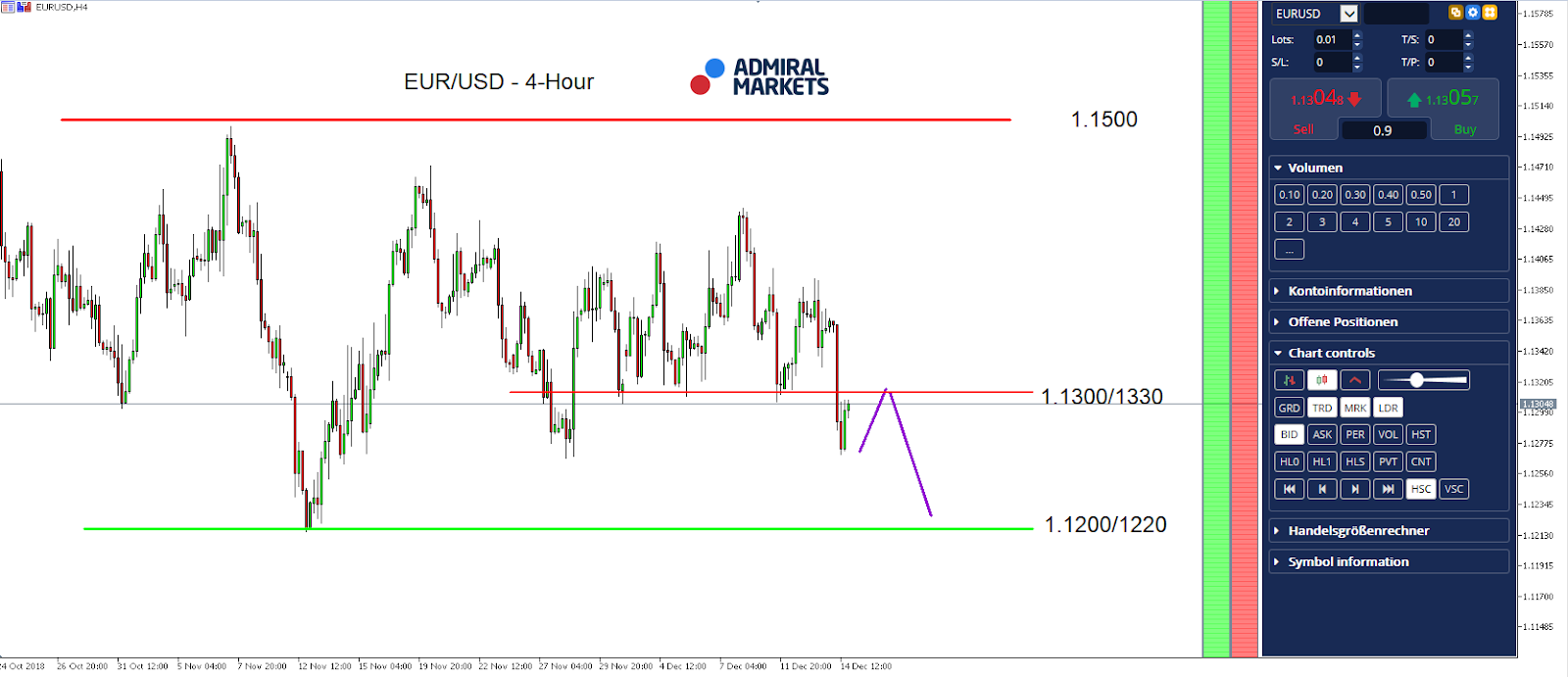 Source: Admiral Markets MT5 with MT5SE Add-on EURUSD 4-hour-chart (between 25 October 2018 to 14 December 2018). Accessed: 14 December 2018 at 11:00 PM GMT – Please Note: Forecasts such as this are not a reliable indicator of future results, or future performance.
Disclaimer: The given data provides additional information regarding all analysis, estimates, prognosis, forecasts or other similar assessments or information (hereinafter "Analysis") published on the website of Admiral Markets. Before making any investment decisions please pay close attention to the following:
The analysis is published for informative purposes only and are in no way to be construed as investment advice or recommendation.
Any investment decision is made by each client alone whereas Admiral Markets shall not be responsible for any loss or damage arising from any such decision, whether or not based on the Analysis.
Each of the Analysis is prepared by an independent analyst (hereinafter "Author") based on the Author's personal estimations.
To ensure that the interests of the clients would be protected and objectivity of the Analysis would not be damaged Admiral Markets has established relevant internal procedures for prevention and management of conflicts of interest.
Whilst every reasonable effort is taken to ensure that all sources of the Analysis are reliable and that all information is presented, as much as possible, in an understandable, timely, precise and complete manner, Admiral Markets does not guarantee the accuracy or completeness of any information contained within the Analysis. The presented figures refer that refer to any past performance is not a reliable indicator of future results.
The contents of the Analysis should not be construed as an express or implied promise, guarantee or implication by Admiral Markets that the client shall profit from the strategies therein or that losses in connection therewith may or shall be limited.
Any kind of previous or modeled performance of financial instruments indicated within the Publication should not be construed as an express or implied promise, guarantee or implication by Admiral Markets for any future performance. The value of the financial instrument may both increase and decrease and the preservation of the asset value is not guaranteed.
The projections included in the Analysis may be subject to additional fees, taxes or other charges, depending on the subject of the Publication. The price list applicable to the services provided by Admiral Markets is publicly available from the website of Admiral Markets.
Leveraged products (including contracts for difference) are speculative in nature and may result in losses or profit. Before you start trading, you should make sure that you understand all the risks