The year started with a "bang" in JPY crosses, with USDJPY dropping to around 105.00 JPY, the lowest levels since March 2018. The reason was a Flash Crash on the first day of trading in 2019 on Tuesday, most-likely initiated by Apple's revenue outlook cut for the first time in almost two decades. Apple CEO Tim Cook pointed straight and directly to China, stating that to the macroeconomic slowdown was almost-entirely responsible for the roughly 10% drop in revenue guidance.
Source: Economic Events 04 January 2019 – Admiral Markets' Forex Calendar
Followed by that, the JPY rose on a broad front, aggressively driven by the quietest and illiquid time of the day for FX markets. While the JPY and all other financial markets could stabilize on Thursday, with the NFPs ahead, and knowing about the importance of this months' employment report after the rising tensions between US president Trump and the FED (here especially chairman Jay Powell after the rate hike in December), fear of thin respectively missing liquidity could trigger sharp spikes in both directions, especially on the downside.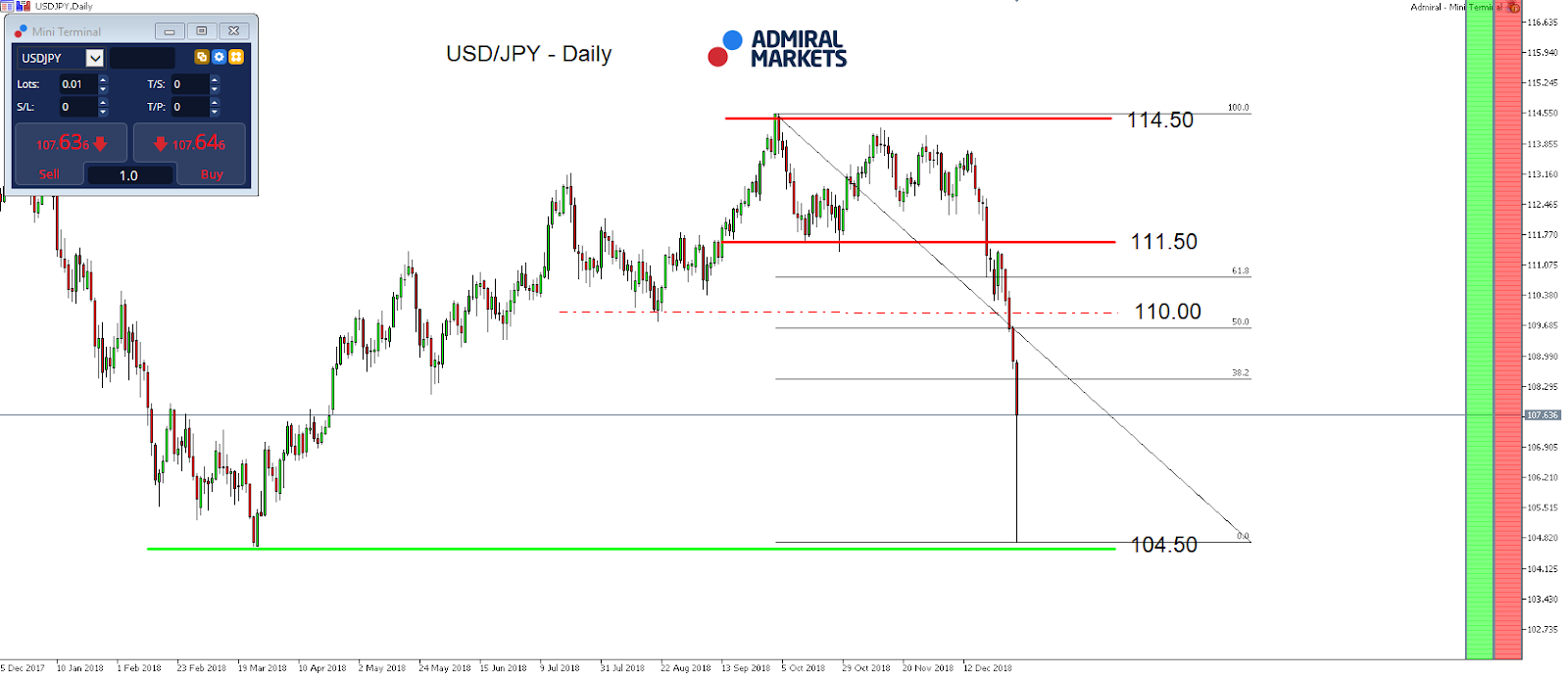 Source: Admiral Markets MT5 with MT5SE Add-on USDJPY daily chart (between 15 Decmber 2017 to 03 January 2019). Accessed: 03 January 2019 at 10:00 PM GMT – Please note: Past performance is not a reliable indicator of future results, or future performance. – In 2014, the value of USDJPY increased by 13.7%, in 2015, it increased by 0.5%, in 2016 it fell by 2.8%, in 2017 it fell by 3.6%, in 2018 it fell by 2.7%, meaning that after five years, it was up by 4.1%.
This is especially true, if data comes in below expectation (< 170,000). As pointed out in our weekly market outlook, large speculators are still quite extended net-long on the US-Dollar, and a below expectation report could trigger another wave of USD selling, from which especially the yield-sensitive JPY could profit, and a re-test of the region around 105.00 JPY in the days to come becomes an option. On the other hand, a better than expected reading (> 185,000) could result in a sharper bounce higher in USDJPY back towards 110.00 JPY:
Disclaimer: The given data provides additional information regarding all analysis, estimates, prognosis, forecasts or other similar assessments or information (hereinafter "Analysis") published on the website of Admiral Markets. Before making any investment decisions please pay close attention to the following:
The analysis is published for informative purposes only and are in no way to be construed as investment advice or recommendation.
Any investment decision is made by each client alone whereas Admiral Markets shall not be responsible for any loss or damage arising from any such decision, whether or not based on the Analysis.
Each of the Analysis is prepared by an independent analyst (hereinafter "Author") based on the Author's personal estimations.
To ensure that the interests of the clients would be protected and objectivity of the Analysis would not be damaged Admiral Markets has established relevant internal procedures for prevention and management of conflicts of interest.
Whilst every reasonable effort is taken to ensure that all sources of the Analysis are reliable and that all information is presented, as much as possible, in an understandable, timely, precise and complete manner, Admiral Markets does not guarantee the accuracy or completeness of any information contained within the Analysis. The presented figures refer that refer to any past performance is not a reliable indicator of future results.
The contents of the Analysis should not be construed as an express or implied promise, guarantee or implication by Admiral Markets that the client shall profit from the strategies therein or that losses in connection therewith may or shall be limited.
Any kind of previous or modeled performance of financial instruments indicated within the Publication should not be construed as an express or implied promise, guarantee or implication by Admiral Markets for any future performance. The value of the financial instrument may both increase and decrease and the preservation of the asset value is not guaranteed.
The projections included in the Analysis may be subject to additional fees, taxes or other charges, depending on the subject of the Publication. The price list applicable to the services provided by Admiral Markets is publicly available from the website of Admiral Markets.
Leveraged products (including contracts for difference) are speculative in nature and may result in losses or profit. Before you start trading, you should make sure that you understand all the risks.