It's official. Boris Johnson has been elected the new Conservative Party leader from a ballot of party members to become the next UK prime minister. The former London Mayor beat rival candidate Jeremy Hunt by a wide margin, winning 92,153 votes to his rivals' 46,656. While reactions around the country have been mixed, Johnson's appointment has opened up some interesting trading opportunities in UK markets.
In this article, we discuss the policies of the new prime minister, how the markets have responded and the trading opportunities that could lie ahead in UK markets. Let's get started!
Boris Johnson, Brussels and Brexit
In an energetic victory speech, Johnson vowed to 'deliver Brexit, unite the country and defeat Jeremy Corbyn'. While the challenge facing the prime minister is perhaps the most difficult of any British politician in peacetime, he gave an upbeat tone – which did very little to help lift the cloud over UK markets.
Brexit is the biggest issue facing the prime minister and he has vowed to deliver Brexit, deal or no-deal, by 31 October. However, officials in Brussels have already signalled that they will not accept his proposed changes to the EU withdrawal agreement drawn up by his predecessor Theresa May.
To add to the challenge of his job, several cabinet members resigned on news of his appointment and some senior ministers are leading the resistance to stop a no-deal exit. There is also a risk of opposition leader Jeremy Corbyn from the Labour party calling a vote of no confidence which could send the UK public back to the voting booths for a general election. The uncertainty still remains.
Key dates for Boris Johnson
24 August – Meeting of the G7 leaders. While Johnson will be touring the European capitals during the summer months, to talk to fellow leaders – most notably from France, Germany and Ireland – the crunch could come at the meeting of the G7 leaders in south-west France. This would give other EU leaders a better sense of the man who is now in charge of the UK.
3 September – New parliamentary session. Parliament returns for the start of a new session which could be historic. If Johnson's negotiations with EU leaders fail, then no-deal Brexit ministers will be trying to find ways to block the prime minister if he does indeed intend to crash out of the European Union on 31 October.
29 September – Conservative party conference. This is the time for the prime minister to lay out his vision for Britain in more detail. It will also be widely watched by all ministers to see if Johnson starts to soften his language regarding Brexit as did his predecessor Theresa May after finding a deal difficult to make. Johnson's hard-line backers such as Jacob Rees-Mogg will expect to see him follow through on his pledge.
17-18 October – EU Summit. This is the last scheduled gathering of the European Union leaders before the UK's scheduled departure date on 31 October. If the prime minister has failed to find a breakthrough with Brussels and if parliament has found a way to stop a no-deal Brexit, then Johnson may be forced to request an extension to the current deadline. However, EU leaders have already stated they will not grant an extension unless it is for good reasons, such as a general election or second referendum.
31 October – Brexit deadline day.
What's next for GBP/USD?
On the announcement of the new prime minister, the GBP/USD exchange rate briefly pushed higher before ending the day lower. In fact, the currency pair has been trending lower for quite some time as the long-term chart below shows:
Source: Admiral Markets MetaTrader 5, GBPUSD, Monthly – Data range: from November 1, 2003, to July 23, 2019, accessed on July 23, 2019, at 9:28 pm BST. – Please note: Past performance is not a reliable indicator of future results.
Traders will be closely watching the new prime minister's comments over the next few months, as well as the tone coming from Brussels. If it is 'more of the same' deadlock, traders and investors could start to worry the UK will leave with a no-deal Brexit which is seen as a short-term negative for the British pound. In fact, traders will be eyeing the multi-year support level of 1.1926 as targets for any possible short trades, as shown by the blue horizontal line below: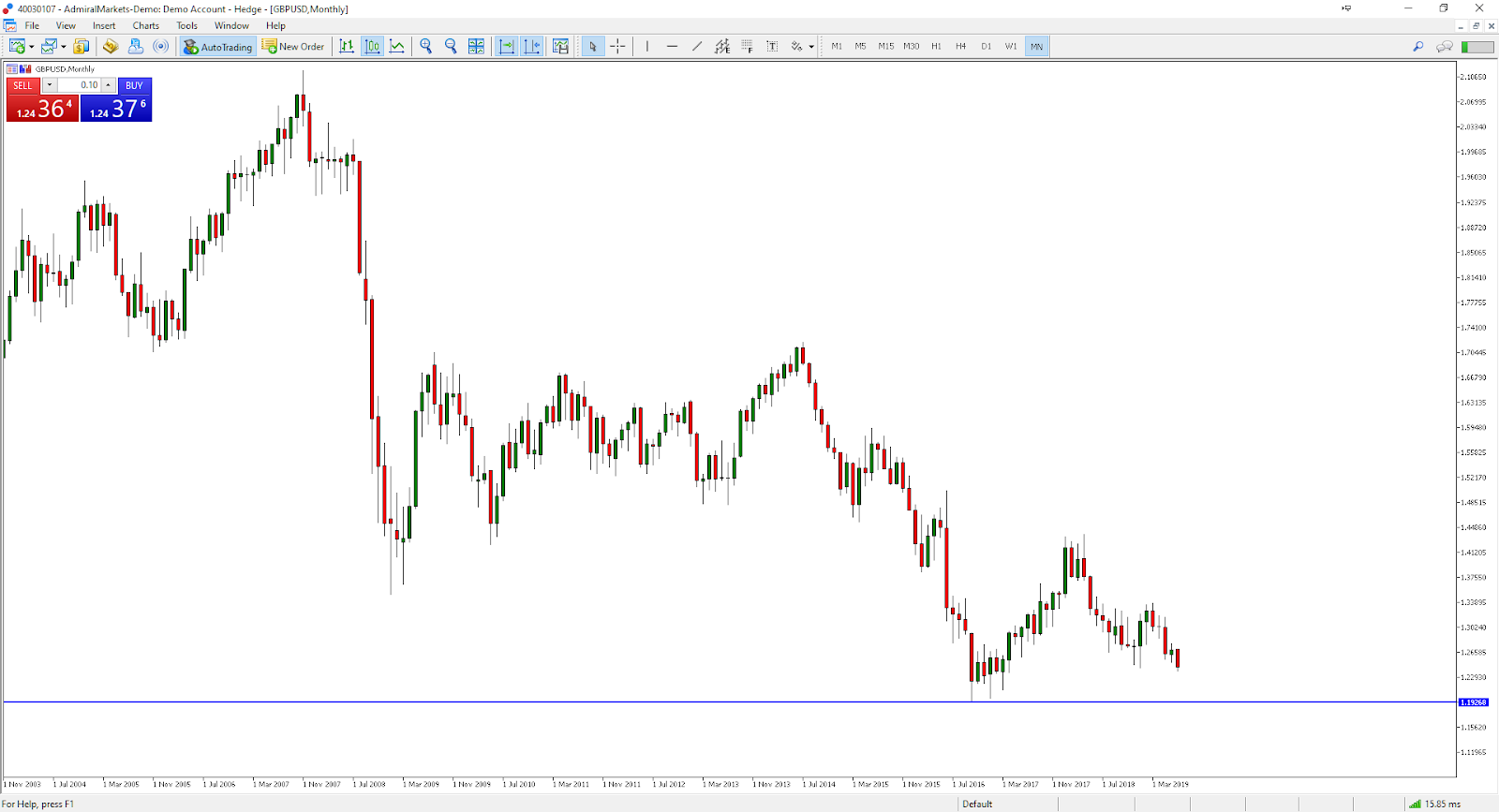 Source: Admiral Markets MetaTrader 5, GBPUSD, Monthly – Data range: from November 1, 2003, to July 23, 2019, accessed on July 23, 2019, at 9:28 pm BST. – Please note: Past performance is not a reliable indicator of future results.
In the short-term traders may also look to the lower timeframes, such as the daily chart for more clues on the direction of the market and any possible trading opportunities. Let's take a look at the daily chart of GBP/USD:
Source: Admiral Markets MetaTrader 5, GBPUSD, Daily – Data range: from October 30, 2018, to July 23, 2019, accessed on July 23, 2019, at 9:38 pm BST. – Please note: Past performance is not a reliable indicator of future results.
In the above daily chart of GBP/USD, the blue line represents the 20-day moving average of price. It is clear to see that sellers have remained in control of the market when the price has remained below the moving average. Some traders would also use this as a tool to identify possible turning points and trading opportunities from.
While the market's response to Boris Johnson has been muted, it also means that UK markets are highly sensitive to any significant progress, or lack thereof, from the new prime minister. This means volatile currency moves could be coming. Risk management is essential. How will you be trading it?
Did you know that with MetaTrader 5 you can trade on multiple asset classes, as well as access superior charting capabilities, free real-time market data & analysis, the best trading widgets available, and much more? To download MetaTrader 5 now, click the banner below and receive it for FREE!

INFORMATION ABOUT ANALYTICAL MATERIALS:
The given data provides additional information regarding all analysis, estimates, prognosis, forecasts, market reviews, weekly outlooks or other similar assessments or information (hereinafter "Analysis") published on the website of Admiral Markets. Before making any investment decisions please pay close attention to the following:
1.This is a marketing communication. The content is published for informative purposes only and is in no way to be construed as investment advice or recommendation. It has not been prepared in accordance with legal requirements designed to promote the independence of investment research, and that it is not subject to any prohibition on dealing ahead of the dissemination of investment research.
2.Any investment decision is made by each client alone whereas Admiral Markets AS (Admiral Markets) shall not be responsible for any loss or damage arising from any such decision, whether or not based on the content.
3.With view to protecting the interests of our clients and the objectivity of the Analysis, Admiral Markets has established relevant internal procedures for prevention and management of conflicts of interest.
4.The Analysis is prepared by an independent analyst Jitan Solanki, Freelance Contributor (hereinafter "Author") based on personal estimations.
5.Whilst every reasonable effort is taken to ensure that all sources of the content are reliable and that all information is presented, as much as possible, in an understandable, timely, precise and complete manner, Admiral Markets does not guarantee the accuracy or completeness of any information contained within the Analysis.
6.Any kind of past or modeled performance of financial instruments indicated within the content should not be construed as an express or implied promise, guarantee or implication by Admiral Markets for any future performance. The value of the financial instrument may both increase and decrease and the preservation of the asset value is not guaranteed.
7.Leveraged products (including contracts for difference) are speculative in nature and may result in losses or profit. Before you start trading, please ensure that you fully understand the risks involved.